Tag:
Ghosts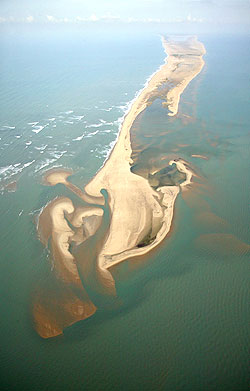 Barely 20 km from the town of Rameswaram in Tamil Nadu, Dhanushkodi gets its name from Dhanush (bow) and Kodi (end). The name alludes to an anecdote in the Ramayana, where Lord Rama broke the bridge constructed by his army of monkeys between the mainland and the island of Lanka with a stroke of his bow. Barely 50 yards long, Dhanushkodi is the sole terrestrial border between India and Sri Lanka. It was inhabited until 1964, when a terrible cyclone wrecked the village and swept a passenger train into the sea. Though Dhanushkodi today is a ghost town, it is still visited by pilgrims.
On the fateful night of December 22, 1964, Indian Railways train number 653, the Pamban-Dhanushkodi Passenger, left Pamban with 110 passengers and five railway staff. It was only a few yards before Dhanushkodi railway station when it was hit by a massive tidal wave. The train was washed away, killing all 115 on board. In all, over 1,800 people perished in the cyclonic storm. Following this disaster, the town was declared unfit for living. Thus this is a holy place for Hindus, further made holier by the confluence of two sea bodies, The bay of Bengal and Indian ocean.
Today, 48 years later, the structures that withstood the tidal wave still exist buried  under the sand and some partly weathered by the Sea adding a mysterious beauty to the place. A few fishermen have settled here in thatched huts and life goes on for them unaware of tomorrow.  Of late, I read in a magazine that the sea water is slowly receding and some parts of the submerged town are visible.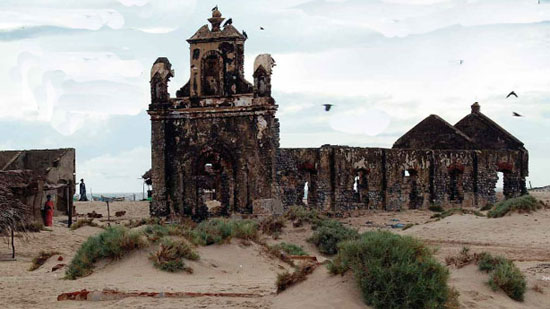 I haven't visited Rameshwaram and Dhanushkodi, but it is on my 'to do list' to see  and experience how it feels, standing at the land mass which is at the tip of India.  Many tourists who travel to Rameshwaram are unaware of Dhanushkodi and the ones who visit sing praises about its  its beautiful coral reefs and rich marine life which is supposed to be very active  here since the ocean waters are very shallow.
It is also the birth place of our ex President and missile man APJ Kalam. and this  is  also the town  through which Swami Vivekananda entered India Via SriLanka after his famous Chicago conference.
A port, a holy town, nature lover's paradise that was (is) Dhanushkodi. Mark it next time around Rameshwaram.
How to reach
By air: Nearest airport: Madurai (167kms)
By rail: Nearest railway station: Rameshwaram, 18kms
By road: Buses and taxis conducting regular service between Madurai and Rameshwaram. From Rameshwaram you have to hire private vehicles through the sands.
Local transport: Inside the city walls of Rameshwaram, you can hire a jeep or an auto rickshaw.
Rajasthan- Rajasthan – Bhangarh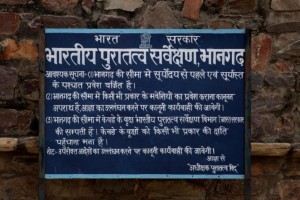 Bhangarh is a place on way from Jaipur to Alwar city in Rajasthan state of India. Today Bhangarh is known for it's ruins where nobody dares to stay after sunset. Going to history we find that this town was established by Madho Singh, younger brother of King Akbar's General Man Singh, in 1631. But the city seems to have been abandoned in a hurry some centuries later. As per local folks, due to some curse the whole town was vacated overnight. According to this curse It was also said that if the town was ever rediscovered, the township would not be found, but only temples would show up. True to the story, only temples dot the landscape and even far up on the mountains only shrines can be seen. People say that nobody returned from there who stayed there after dark. The biggest thing is that as per Govt. of India rules there has to be an office of Archaeology Survey of India (ASI) beside every historical structure in India. But even Government authorities couldn't dare to open an office there and they opened their office about one kilometer away from the ruins of Bhangarh. Also ASI has put a signboard at Bhangarh saying, "Staying after sunset is strictly prohibited in this area." People who visit this place out of tourist interest say that there is a strange feeling in the atmosphere of Bhangarh, which causes sort of anxiety and restlessness.
Maharashtra – Mumbai – Mumbai Supreme Court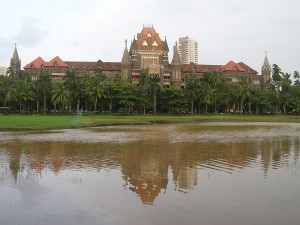 For over 30 years whenever a murder trial is conducted here a vengeful bilingual ghost makes itself known by cursing and terrorizing anyone brave (or foolish) enough to enter. Most of the times, people see a lady standing in white dress asking for lift. if you go thru she will run as fast as the car runs & people reported her sitting there.
UP – Lucknow – Residency
The pride of place is a structure which hardly exists, the melancholic ruins of the Residency, which lay besieged by the sepoys in 1857 for a period of six months. Once home to the British Resident and his entire army, the large, handsome typically English building now stands mute testimony to the ravages of the war. Its shell-shocked exteriors at dusk turn into a canvas for an audio-visual representation of the glorious past of Lucknow, one that's de rigueur. Apart from the ruins and cemetery, which are inevitably rumored to be haunted, the most interesting part is the Main House, which has a museum of sorts and a harrowing basement where each cannonball mark is identified along with the victim. It's difficult not be overtaken by the imagery of what might have ensued in those fateful days and have a sense of remorse over the dead, especially above the sign which says that a 4 year old girl was hit by a shell here.
Gujarat – Surat – Dumas
If you walk towards the ocean at night in Dumas then u will hear noises that will tell you go home don't go forward and all scary things happen. Dogs will even start chasing you sometimes but they say that the dogs run because they are trying to get away from that place as well. This all happens because Hindus burn their bodies after they die over there and the ghosts in there body stay in the air.
Hyderabad – Ramoji Film City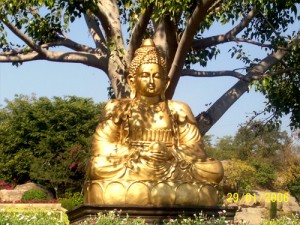 It is a big film city in Hyderabad,(like universal studios) the hotels in Ramoji film city are haunted. They say that the film city is built on war grounds of the Nizam sultans. Witnesses report the lights kept on top keep falling off, the light men- who sit with the lights on top have been pushed so many times and many have had grievous injuries. The food left in rooms also gets scattered around the room and strange marks are left on the mirror, some script…. resembling Urdu…the language spoken by the sultans. Girls are the ghosts' favorite to haunt. They trouble the girls so much, they tear their clothes, knock on the bathroom doors while the outside doors are locked. They create havoc. Many preventive measures have been taken to prevent hauntings……but of no use…they keep coming back after sometime.
Maharashtra – Lonawala – Raj Kiran hotel
Reports of bedsheets being pulled off and continue to be pulled even after the guest is woken up.This room is in the corner and at the backside of the reception on the ground floor itself.
UP- Meerut – GP block 
It has been always seen that 4 guys are sitting inside the house with a single candle lighted and drinking beers. It happens to be most common sight for people passing through that area but few person also added that even they have seen girls in red dress coming out of the house. The house is double stored and people have seen the scene happening on the roof top. People have left moving through that place now.
Maharastra – Mumbai – Mahim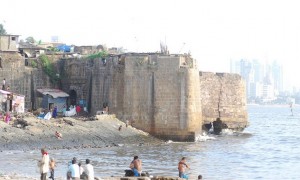 Near Canossa primary there is a chawl named d'souza chawl, there is a local well from whwere people used to fill water and even wash clothes.This well did not have any boundary walls around it and once when a lady was filling water the whole thing collapsed.The lady too fell in that well and died.After this incident she is said to appear everyday near that well and many of the locals have even seen her. She does not harm anyone just strolls around the place and before morning hours she dissappears.
Delhi – New Delhi – Sanjay Van (near Qutab Institutional Area)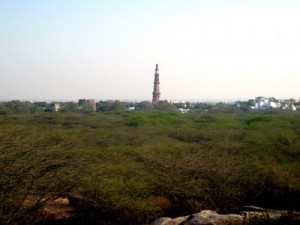 Sanjay Van is a huge forest area spread over around 10 kms. There is a cremation ground also there, many people have reported having seen a lady dressed in a white saree appearing and disappearing suddenly.
Maharasthra – Pune – Shaniwarwada Fort 
When Peshwas ruled the western Indian province, Narayan the heir of the kingdom was assassinated on his uncle Madhavrao's wife's orders. Narayan was chased by his assassins across the entire fort. It was said that while running for his life he called "Uncle save me", and even today locals say that they hear his cries for help at midnights on new moon day.
Maharashtra – Thane – Vrindavan Society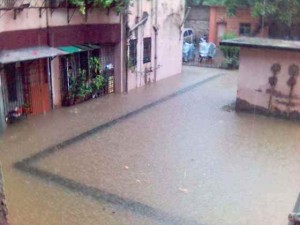 It's said a Man had committed suicide in one of the Buildings in Vrindavan Society(Bldg. No.66 B).The security guard's patrolling the area around have come across weird happenings. Once a guard was slapped so hardly that he got up from his chair and hit the other guard who was near by him thinking he was the one who hit him.
West Bengal –  Kurseong – Dow-Hill
The forests have an uncanny feeling. Its damp, cold and sometimes dark. People up here tend to be depressed and countless murders have taken place. On the stretch between Dow-Hill road and the Forest Office, wood cutters returning in the evenings have sited a young boy walking head-less for several yards and then walk away from the road into the woods. Other than this, footsteps are heard in the corridors of the Victoria Boys School when the school is closed for long holidays from December to March.
Source: Thrillophilia, Most Haunted Places, Ghost Centre, etc.