Category:
Supernatural
One of the more fascinating psychotic conditions in the medical literature is known as Cotard's syndrome, a rare disorder, usually recoverable, in which the primary symptom is a "delusion of negation." According to researchers David Cohen and Angèle Consoli of the Université Pierre et Marie Curie, many patients with Cotard's syndrome are absolutely convinced, without even the slimmest of doubts, that they are already dead.
Some recent evidence suggests that Cotard's may occur as a neuropsychiatric side effect in patients taking the drugs aciclovir or valaciclovir for herpes and who also have kidney failure.* But its origins go back much further than these modern drugs. First described by the French neurologist Jules Cotard in the 1880s, it is usually accompanied by some other debilitating problem, such as major depression, schizophrenia, epilepsy or general paralysis—not to mention disturbing visages in the mirror. Consider the case of one young woman described by Cohen and Consoli: "The delusion consisted of the patient's absolute conviction she was already dead and waiting to be buried, that she had no teeth or hair, and that her uterus was malformed." Poor thing—that image couldn't have been very good for her self-esteem.
Still, call me strange, but I happen to find a certain appeal in the conviction that one is, though otherwise lucid, nevertheless already dead. Provided there were no uncomfortable symptoms of rigor mortis cramping up my hands, nor delusory devils biting at my feet, how liberating it would be to be able to write like a dead man and without that hobbling, hesitating fear of being unblinkingly honest. Knowing that upon publication I would be tucked safely away in my tomb, I could finally say what's on my mind. Of course, living one's life as though it were a suicide note incarnate (yet remember this is precisely what life is, really, and I would advise any thinking person to stroll by a cemetery each day, gaze unto those fields of crumbling headstones filled with chirping crickets, and ponder, illogically so, what these people wish they might have said to the world when it was still humanly possible for them to have done so ) is an altogether different thing from the crushing, unbearable weight of an actual suicidal mind dangerously tempted by the promise of permanent quiescence.
In considering people's motivations for killing themselves, it is essential to recognize that most suicides are driven by a flash flood of strong emotions, not rational, philosophical thoughts in which the pros and cons are evaluated critically. And, as I mentioned in last week's column on the evolutionary biology of suicide, from a psychological science perspective, I don't think any scholar ever captured the suicidal mind better than Florida State University psychologist Roy Baumeister in his 1990 Psychological Review article , "Suicide as Escape from the Self." To reiterate, I see Baumeister's cognitive rubric as the engine of emotions driving deCatanzaro's biologically adaptive suicidal decision-making. There are certainly more recent theoretical models of suicide than Baumeister's, but none in my opinion are an improvement. The author gives us a uniquely detailed glimpse into the intolerable and relentlessly egocentric tunnel vision that is experienced by a genuinely suicidal person.
According to Baumeister, there are six primary steps in the escape theory, culminating in a probable suicide when all criteria are met. I do hope that having knowledge about the what-it-feels-like phenomenology of 'being' suicidal helps people to recognize their own possible symptoms of suicidal ideation and—if indeed this is what's happening—enables them to somehow derail themselves before it's too late. Note that it is not at all apparent that those at risk of suicide are always aware that they are in fact suicidal, at least in the earliest cognitive manifestations of suicidal ideation. And if such thinking proceeds unimpeded, then keeping a suicidal person from completing the act may be as futile as encouraging someone at the very peak of sexual excitement to please kindly refrain from having an orgasm, which is itself sometimes referred to as la petite mort ("the little death").
So let's take a journey inside the suicidal mind, at least as it's seen by Roy Baumeister. You might even come to discover that you've actually stepped foot in this dark psychological space before, perhaps without knowing it at the time.
Step 1: Falling Short of Standards
Most people who kill themselves actually lived better-than-average lives. Suicide rates are higher in nations with higher standards of living than in less prosperous nations; higher in US states with a better quality of life; higher in societies that endorse individual freedoms; higher in areas with better weather; in areas with seasonal change, they are higher during the warmer seasons; and they're higher among college students that have better grades and parents with higher expectations.
Baumeister argues that such idealistic conditions actually heighten suicide risk because they often create unreasonable standards for personal happiness, thereby rendering people more emotionally fragile in response to unexpected setbacks. So, when things get a bit messy, such people, many of whom appear to have led mostly privileged lives, have a harder time coping with failures. "A large body of evidence," writes the author, "is consistent with the view that suicide is preceded by events that fall short of high standards and expectations, whether produced by past achievements, chronically favorable circumstances, or external demands." For example, simply being poor isn't a risk factor for suicide. But going rather suddenly from relative prosperity to poverty has been strongly linked to suicide. Likewise, being a lifelong single person isn't a risk factor either, but the transition from marriage to the single state places one at significant risk for suicide. Most suicides that occur in prison and mental hospital settings occur within the first month of confinement, during the initial period of adjustment to loss of freedom. Suicide rates are lowest on Fridays and highest on Mondays; they also drop just before the major holidays and then spike sharply immediately after the holidays. Baumeister interprets these patterns as consistent with the idea that people's high expectations for holidays and weekends materialize, after the fact, as bitter disappointments.
To summarize this first step in the escape theory, Baumeister tells us that, "it is apparently the size of the discrepancy between standards and perceived reality that is crucial for initiating the suicidal process." It's the proverbial law of social gravity: the higher your majesty is to start off with, the more painful it's going to be when you happen to fall flat on your face.
Step 2: Attributions to Self
It is not just the fall from grace alone that's going to send you on a suicidal tailspin. It's also necessary for you to loathe yourself for facing the trouble you find yourself in. Across cultures, "self blame" or "condemnation of the self" has held constant as a common denominator in suicides. Baumeister's theory accommodates these data, yet his model emphasizes that the biggest risk factor isn't chronically low self-esteem, per se, but rather a relatively recent demonization of the self in response to the negative turn of events occurring in the previous step. People who have low self-esteem are often misanthropes, he points out, in that while they are indeed self critical, they are usually just as critical of other people. By contrast, suicidal individuals who engage in negative appraisals of the self seem to suffer the erroneous impression that other people are mostly good, while they themselves are bad. Feelings of worthlessness, shame, guilt, inadequacy, or feeling exposed, humiliated and rejected leads suicidal people to dislike themselves in a manner that, essentially, cleaves them off from an idealized humanity. The self is seen as being enduringly undesirable; there is no hope for change and the core self is perceived as being rotten.
This is why adolescents and adults of minority sexual orientations, who grow up gestating in a social womb filled with messages—both implicit and explicit—that they are essentially lesser human beings, are especially vulnerable to suicide. Even though we may consciously reject these personal attributions made by an intolerant society, they have still seeped in. If we extrapolate this to, say, Tyler Clementi as he was driving towards the George Washington Bridge to end his own life in the wake of being cruelly and voyeuristically outed over the Internet, I'd bet my bottom dollar that he felt even the songs on the radio weren't meant for him, but for "normal people" more relatable to the singer and deserving of the song's message.
Step 3: High Self-Awareness
"The essence of self-awareness is comparison of self with standards," writes Baumeister. And, according to his escape theory, it is this ceaseless and unforgiving comparison with a preferred self—perhaps an irrecoverable self from a happier past or a goal self that is now seen as impossible to achieve in light of recent events—fuelling suicidal ideation.
This piquancy of thought in suicidal individuals is actually measurable, at least indirectly by analyzing the language used in suicide notes. One well-known "suicidologist," Edwin Shneidman, once wrote that, "Our best route to understanding suicide is not through the study of the structure of the brain, nor the study of social statistics, nor the study of mental diseases, but directly through the study of human emotions described in plain English, in the words of the suicidal person." Personally, I feel a bit like an existential Peeping Tom in reading strangers' suicide notes, but it's a longstanding cottage industry in psychological research. Over the past few decades alone, nearly 300 studies on suicide notes have been published. These cover a broad range of research questions, but because they tend to yield inconsistent findings, they have also painted a confusing picture of the suicidal mind.
This is especially the case when trying to reveal people's motivations for the act. Some who commit suicide may not even be aware of their own motivations, or at least they have not been completely honest in their farewell letters to the world. A good example comes from University of Manchester sociologist Susanne Langer and her colleagues' report in a 2008 issue of The Sociological Review . The researchers describe how the suicide note written by one young man was rather nondescript, mentioning feelings of loneliness and emptiness as causing his suicide, while, in fact, "his file contained a memo inquiring about the state of an investigation regarding sexual offences the deceased had been accused of in an adjacent jurisdiction."
The more compelling studies on suicide notes, in my view, are those that use text analysis programs enabling the investigators to make exact counts of particular kinds of words. Compared to fake suicide notes, real suicide notes are notorious for containing first-person singular pronouns, a reflection of high self-awareness. And unlike letters written by people facing involuntary death, such as those about to be executed, suicide note writers rarely use inclusive language such as plural pronouns, such as "us" and "we." When they do mention significant others, suicide note writers usually speak of them as being cut off, distant, separate, not understanding, or opposed. Friends and family, even a loving mother at arm's length, feel endless oceans away.
Step 4: Negative Affect
It may seem to go without saying that suicides tend to be preceded by a period of negative emotions, but, again, in Baumeister's escape model, negative suicidal emotions are experienced as an acute state rather than a prolonged one. "Concluding simply that depression causes suicide and leaving it at that may be inadequate for several reasons," he writes. "It is abundantly clear that most depressed people do not attempt suicide and that not all suicide attempters are clinically depressed."
Anxiety—which can be experienced as guilt, self-blame, threat of social exclusion, ostracism and worry—seems to be a common strand in the majority of suicides. As I mentioned in last week's post, we may very well be the only species for which negative social-evaluative appraisals can lead to shame-induced suicide. It's not without controversy, but the most convincing data from studies with nonhuman animals suggest very strongly that we are the only species on the face of the earth able to take another organism's perspective in judging the self's attributes. This is owed to an evolutionary innovation known as "theory of mind" (literally, theorizing about what someone else is thinking about, including what they're thinking about you ; and, perhaps more importantly in this case, even what you're thinking about you) that has been both a blessing and a curse. It's a blessing because it allows us to experience pride, and a curse because it also engenders what I consider to be the uniquely human, uniquely painful emotion of shame.
Psychodynamic theorists often postulate that suicidal guilt seeks punishment, and thus suicide is a sort of self-execution. But Baumeister's theory largely rejects this interpretation; rather, in his model, the appeal of suicide is loss of consciousness, and thus the end of psychological pain being experienced. And since cognitive therapy isn't easily available—or seen as achievable—by most suicidal people, that leaves only three ways to escape this painful self-awareness: drugs, sleep and death. And of these, only death, nature's great anesthesia, offers a permanent fix.
Step 5: Cognitive Deconstruction
The fifth step in the escape theory is perhaps the most intriguing, from a psychological perspective, because it illustrates just how distinct and scarily inaccessible the suicidal mind is from that of our everyday cognition. With cognitive deconstruction, a concept originally proposed by social psychologists Robin Vallacher and Daniel Wegner, the outside world becomes a much simpler affair in our heads—but usually not in a good way.
Cognitive deconstruction is pretty much just what it sounds like. Things are cognitively broken down into increasingly low-level and basic elements. For example, the time perspective of suicidal people changes in a way that makes the present moment seem interminably long; this is because, "suicidal people have an aversive or anxious awareness of the recent past (and possibly the future too), from which they seek to escape into a narrow, unemotional focus on the present moment." In one interesting study, for example, when compared to control groups, suicidal participants significantly overestimated the passage of experimentally controlled intervals of time by a large amount. Baumeister surmises, "Thus suicidal people resemble acutely bored people: The present seems endless and vaguely unpleasant, and whenever one checks the clock, one is surprised at how little time has actually elapsed."
Evidence also suggests that suicidal individuals have a difficult time thinking about the future—which for those who'd use the threat of hell as a deterrent, shows just why this strategy isn't likely to be very effective. This temporal narrowing, Baumeister believes, is actually a defensive mechanism helping the person to cognitively withdraw from thinking about past failures and the anxiety of an intolerable, hopeless future.
Another central aspect of the suicidal person's cognitive deconstruction, says Baumeister, is a dramatic increase in concrete thought. Like the intrusively high self-awareness discussed earlier, this concreteness is often conveyed in suicide notes. Several review articles have noted the relative paucity of "thinking words" in suicide notes, which are abstract, meaningful, high-level terms. Instead, they more often include banal and specific instructions, such as, "Don't forget to feed the cat," or "Remember to take care of the electric bill." Real suicide notes are usually suspiciously void of contemplative or metaphysical thoughts, whereas fake suicide notes, written by study participants, tend to include more abstract or high-level terms ("Someday you'll understand how much I loved you" or "Always be happy"). One old study even found that genuine suicide notes contained more references to concrete objects in the environment—physical things—than did simulated suicide notes.
What this cognitive shift to concrete thinking reflects, suggests Baumeister, is the brain's attempt to slip into idle mental labor, thereby avoiding the suffocating feelings that we've been describing. Many suicidal college students, for example, exhibit a behavioral pattern of burying themselves in dull, routine academic busywork in the weeks beforehand, presumably to enter a sort of "emotional deadness" which is "an end in itself." When I was a suicidal adolescent, I remember reading voraciously during this time; it didn't matter what it was that I read—mostly junk novels, in fact—since it was only to replace my own thoughts with those of the writer's. For the suicidal, other people's words can be pulled over one's exhausting ruminations like a seamless glove being stretched over a distractingly scarred hand.
Even the grim, tedious details of organizing one's own suicide can offer a welcome reprieve:
When preparing for suicide, one can finally cease to worry about the future, for one has effectively decided that there will be no future. The past, too, has ceased to matter, for it is nearly ended and will no longer cause grief, worry, or anxiety. And the imminence of death may help focus the mind on the immediate present
Step 6: Disinhibition
We've now set the mental stage, but it is of course the final act that separates suicidal ideation from an actual suicide. Baumeister speculates that behavioral disinhibition, which is required to overcome the intrinsic fear of causing oneself pain through death, not to mention the anticipated suffering of loved ones left behind to grieve, is another consequence of cognitive deconstruction. This is because it disallows the high-level abstractions (reflecting on the inherent "wrongness" of suicide, how others will feel, even concerns about self-preservation) that, under normal conditions, keep us alive.
A recent theoretical analysis by University of Rochester psychiatrist Kimberly Van Orden and her colleagues sheds some additional light on this component of behavioral disinhibition. These authors point out that while there is a considerable number of people who want to kill themselves, suicide itself remains relatively rare. This is largely because, in addition to suicidal desire, the individual needs the "acquired capability for suicide," which involves both a lowered fear of death and increased physical pain tolerance. Suicide hurts, literally. One acquires this capability, according to these authors' model, by being exposed to related conditions that systematically habituate the individual to physical pain. For example, one of the best predictors of suicide is a nonlethal prior suicide attempt.
But a history of other fear-inducing, physically painful experiences also places one at risk. Physical or sexual abuse as a child, combat exposure, and domestic abuse can also "prep" the individual for the physical pain associated with suicidal behavior. In addition, heritable variants of impulsivity, fearlessness and greater physical pain tolerance may help to explain why suicidality often runs in families. Van Orden and her coauthors also cite some intriguing evidence that habituation to pain is not so much generalized to just any old suicide method, but often specific to the particular method used to end one's own life. For example, a study on suicides in the U.S. military branches found that guns were most frequently associated with Army personnel suicides, hanging and knots for those in the Navy, and falling and heights were more common for those in the Air Force.
So there you have it. It's really not a pretty picture. But, again, I do hope that if you ever are unfortunate enough to experience these cognitive dynamics in your own mind—and I, for one, very much have—or if you suspect you're seeing behaviors in others that indicate these thought patterns may be occurring, that this information helps you to meta-cognitively puncture suicidal ideation. If there is one thing that I've learned since those very dark days of my suicidal years, it's that scientific knowledge changes perspective. And perspective changes everything. Everything.
And, as I mentioned at the start, always remember: You're going to die soon enough anyway; even if it's a hundred years from now, that's still the blink of a cosmic eye. In the meantime, live like a scientist—even a controversial one with only an ally or two in all the world—and treat life as a grand experiment, blood, sweat, tears and all. Bear in mind that there's no such thing as a failed experiment—only data.
Credit: Dr. Roy Baumeister's Book & SA.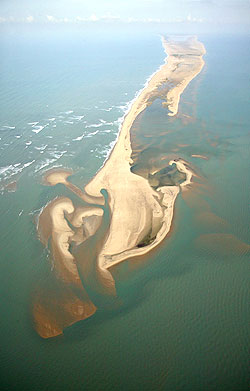 Barely 20 km from the town of Rameswaram in Tamil Nadu, Dhanushkodi gets its name from Dhanush (bow) and Kodi (end). The name alludes to an anecdote in the Ramayana, where Lord Rama broke the bridge constructed by his army of monkeys between the mainland and the island of Lanka with a stroke of his bow. Barely 50 yards long, Dhanushkodi is the sole terrestrial border between India and Sri Lanka. It was inhabited until 1964, when a terrible cyclone wrecked the village and swept a passenger train into the sea. Though Dhanushkodi today is a ghost town, it is still visited by pilgrims.
On the fateful night of December 22, 1964, Indian Railways train number 653, the Pamban-Dhanushkodi Passenger, left Pamban with 110 passengers and five railway staff. It was only a few yards before Dhanushkodi railway station when it was hit by a massive tidal wave. The train was washed away, killing all 115 on board. In all, over 1,800 people perished in the cyclonic storm. Following this disaster, the town was declared unfit for living. Thus this is a holy place for Hindus, further made holier by the confluence of two sea bodies, The bay of Bengal and Indian ocean.
Today, 48 years later, the structures that withstood the tidal wave still exist buried  under the sand and some partly weathered by the Sea adding a mysterious beauty to the place. A few fishermen have settled here in thatched huts and life goes on for them unaware of tomorrow.  Of late, I read in a magazine that the sea water is slowly receding and some parts of the submerged town are visible.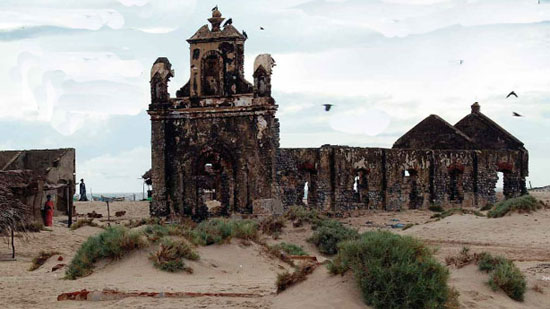 I haven't visited Rameshwaram and Dhanushkodi, but it is on my 'to do list' to see  and experience how it feels, standing at the land mass which is at the tip of India.  Many tourists who travel to Rameshwaram are unaware of Dhanushkodi and the ones who visit sing praises about its  its beautiful coral reefs and rich marine life which is supposed to be very active  here since the ocean waters are very shallow.
It is also the birth place of our ex President and missile man APJ Kalam. and this  is  also the town  through which Swami Vivekananda entered India Via SriLanka after his famous Chicago conference.
A port, a holy town, nature lover's paradise that was (is) Dhanushkodi. Mark it next time around Rameshwaram.
How to reach
By air: Nearest airport: Madurai (167kms)
By rail: Nearest railway station: Rameshwaram, 18kms
By road: Buses and taxis conducting regular service between Madurai and Rameshwaram. From Rameshwaram you have to hire private vehicles through the sands.
Local transport: Inside the city walls of Rameshwaram, you can hire a jeep or an auto rickshaw.
Rajasthan- Rajasthan – Bhangarh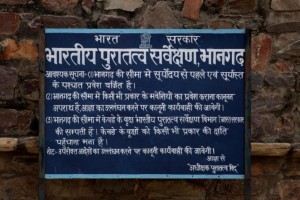 Bhangarh is a place on way from Jaipur to Alwar city in Rajasthan state of India. Today Bhangarh is known for it's ruins where nobody dares to stay after sunset. Going to history we find that this town was established by Madho Singh, younger brother of King Akbar's General Man Singh, in 1631. But the city seems to have been abandoned in a hurry some centuries later. As per local folks, due to some curse the whole town was vacated overnight. According to this curse It was also said that if the town was ever rediscovered, the township would not be found, but only temples would show up. True to the story, only temples dot the landscape and even far up on the mountains only shrines can be seen. People say that nobody returned from there who stayed there after dark. The biggest thing is that as per Govt. of India rules there has to be an office of Archaeology Survey of India (ASI) beside every historical structure in India. But even Government authorities couldn't dare to open an office there and they opened their office about one kilometer away from the ruins of Bhangarh. Also ASI has put a signboard at Bhangarh saying, "Staying after sunset is strictly prohibited in this area." People who visit this place out of tourist interest say that there is a strange feeling in the atmosphere of Bhangarh, which causes sort of anxiety and restlessness.
Maharashtra – Mumbai – Mumbai Supreme Court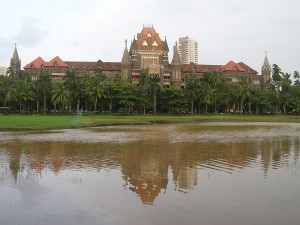 For over 30 years whenever a murder trial is conducted here a vengeful bilingual ghost makes itself known by cursing and terrorizing anyone brave (or foolish) enough to enter. Most of the times, people see a lady standing in white dress asking for lift. if you go thru she will run as fast as the car runs & people reported her sitting there.
UP – Lucknow – Residency
The pride of place is a structure which hardly exists, the melancholic ruins of the Residency, which lay besieged by the sepoys in 1857 for a period of six months. Once home to the British Resident and his entire army, the large, handsome typically English building now stands mute testimony to the ravages of the war. Its shell-shocked exteriors at dusk turn into a canvas for an audio-visual representation of the glorious past of Lucknow, one that's de rigueur. Apart from the ruins and cemetery, which are inevitably rumored to be haunted, the most interesting part is the Main House, which has a museum of sorts and a harrowing basement where each cannonball mark is identified along with the victim. It's difficult not be overtaken by the imagery of what might have ensued in those fateful days and have a sense of remorse over the dead, especially above the sign which says that a 4 year old girl was hit by a shell here.
Gujarat – Surat – Dumas
If you walk towards the ocean at night in Dumas then u will hear noises that will tell you go home don't go forward and all scary things happen. Dogs will even start chasing you sometimes but they say that the dogs run because they are trying to get away from that place as well. This all happens because Hindus burn their bodies after they die over there and the ghosts in there body stay in the air.
Hyderabad – Ramoji Film City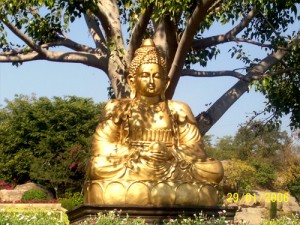 It is a big film city in Hyderabad,(like universal studios) the hotels in Ramoji film city are haunted. They say that the film city is built on war grounds of the Nizam sultans. Witnesses report the lights kept on top keep falling off, the light men- who sit with the lights on top have been pushed so many times and many have had grievous injuries. The food left in rooms also gets scattered around the room and strange marks are left on the mirror, some script…. resembling Urdu…the language spoken by the sultans. Girls are the ghosts' favorite to haunt. They trouble the girls so much, they tear their clothes, knock on the bathroom doors while the outside doors are locked. They create havoc. Many preventive measures have been taken to prevent hauntings……but of no use…they keep coming back after sometime.
Maharashtra – Lonawala – Raj Kiran hotel
Reports of bedsheets being pulled off and continue to be pulled even after the guest is woken up.This room is in the corner and at the backside of the reception on the ground floor itself.
UP- Meerut – GP block 
It has been always seen that 4 guys are sitting inside the house with a single candle lighted and drinking beers. It happens to be most common sight for people passing through that area but few person also added that even they have seen girls in red dress coming out of the house. The house is double stored and people have seen the scene happening on the roof top. People have left moving through that place now.
Maharastra – Mumbai – Mahim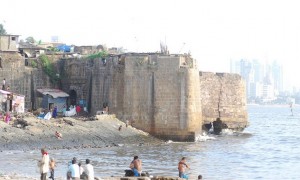 Near Canossa primary there is a chawl named d'souza chawl, there is a local well from whwere people used to fill water and even wash clothes.This well did not have any boundary walls around it and once when a lady was filling water the whole thing collapsed.The lady too fell in that well and died.After this incident she is said to appear everyday near that well and many of the locals have even seen her. She does not harm anyone just strolls around the place and before morning hours she dissappears.
Delhi – New Delhi – Sanjay Van (near Qutab Institutional Area)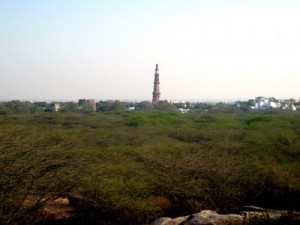 Sanjay Van is a huge forest area spread over around 10 kms. There is a cremation ground also there, many people have reported having seen a lady dressed in a white saree appearing and disappearing suddenly.
Maharasthra – Pune – Shaniwarwada Fort 
When Peshwas ruled the western Indian province, Narayan the heir of the kingdom was assassinated on his uncle Madhavrao's wife's orders. Narayan was chased by his assassins across the entire fort. It was said that while running for his life he called "Uncle save me", and even today locals say that they hear his cries for help at midnights on new moon day.
Maharashtra – Thane – Vrindavan Society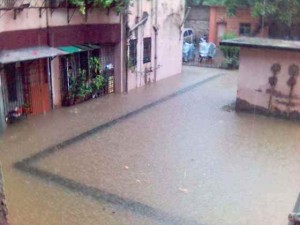 It's said a Man had committed suicide in one of the Buildings in Vrindavan Society(Bldg. No.66 B).The security guard's patrolling the area around have come across weird happenings. Once a guard was slapped so hardly that he got up from his chair and hit the other guard who was near by him thinking he was the one who hit him.
West Bengal –  Kurseong – Dow-Hill
The forests have an uncanny feeling. Its damp, cold and sometimes dark. People up here tend to be depressed and countless murders have taken place. On the stretch between Dow-Hill road and the Forest Office, wood cutters returning in the evenings have sited a young boy walking head-less for several yards and then walk away from the road into the woods. Other than this, footsteps are heard in the corridors of the Victoria Boys School when the school is closed for long holidays from December to March.
Source: Thrillophilia, Most Haunted Places, Ghost Centre, etc.