Happiness is in You!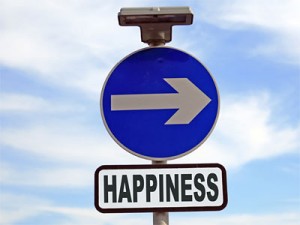 A feeling of great pleasure, contentment or Joy. There is a reason why you were drawn to this. Perhaps your soul is extending an invitation to you, an invitation to get in touch with the deepest part of yourself.
One day a doctor was sitting with a patient who had a heart disease, and he asked him, why do you want to get better?
The patient was quite obviously perplexed. The patient said, "Doesn't everybody want to get better when they're sick?" Yes, the doctor said, but why do you want to get better?
He replied "If I get better, I can go back to work and make more money"
For some unknown reason, the doctor persisted in asking him why, why do you want to make more money?
Apparently amused, he agreed to play the game and said "It is because I want to send my son to a good university"
The doctor asked him why he wanted to send his son to a good university.
The doctor kept repeating his question. In the end he finally said "I want to be HAPPY."
You can try this yourself. Ask anyone what they want, and when they tell you what they want, keep asking why, until you hear the ultimate answer "I want to be happy".
Happiness seems to be the goal of all other goals, and yet most people seek happiness in a roundabout way. As I talked to the people, I got the idea "why not make happiness our primary goal? Why seek happiness through all these second hand means?" I discovered something even more interesting. If we make happiness our primary goal instead of our secondary goal, then everything else we desire is easily accomplished.
In many spiritual traditions it has been said that if you seek the highest first, everything else comes to you. Most people say "I'm happy because, because I have family and friends, because I have a great job, because I have money and security." All these reasons for happiness are tenuous; they come and go like the passing breeze.
When happiness eludes us, we seek pleasure through addictive behaviours in the unconscious hope that we will find joy. External causes of happiness never create real joy. Joy is an internal state of consciousness that determines how we perceive and experience the world. The internal source of joy, our connection to our creator, our source, and our inner self is the cause, while happiness is its effect.
Happiness is a state of consciousness that already exists within us, but it's often covered up by all kinds of distractions. Upon discovering this joy, wonderful and miraculously things begin to happen. We find ourselves becoming beacons of light and love, and our very presence nurtures the environment around us. People are drawn to support our desires, and even nature responds to our intentions.
Let us motivate ourselves and others, so that no one can ever think of ending his or her life. One must learn to be patient, calm and optimistic in the most difficult situations and with this belief happiness will always be there in you.